As he continues to advocate on behalf of the nation's governors, Governor Hogan led a virtual bicameral session with the Problem Solvers Caucus earlier today.
In the meeting, Governor Hogan thanked the Problems Solvers Caucus for working together to advance bipartisan legislation called the SMART ACT that provides emergency relief to state governments facing unprecedented revenue shortfalls. Governor Hogan praised the legislation as a "good compromise" and encouraged the group to continue playing an essential role in crafting bipartisan agreement on this issue. As Governor Hogan has repeatedly said, each day that Congress fails to act, states are being forced to make cuts that will devastate the essential services the American people rely on and destroy the economic recovery before it even gets off the ground.
Governor Hogan also urged the bipartisan group to push for providing state governments maximum flexibility in how they spend federal aid. Earlier this week, The White House confirmed President Trump approved Governor Hogan's request on behalf of the nation's governors to allow states to use federal funding to cover the full cost of FEMA's response. This has been a top priority of America's governor throughout this crisis with Governor Hogan first making this request on April 2nd.
Governor Hogan also discussed the urgent need for a bipartisan infrastructure bill - another priority of the Problem Solvers Caucus. As Chair of the National Governors Association, Governor Hogan is leading a year-long initiative to rebuild America's crumbling infrastructure. As Governor Hogan recently wrote in a Washington Post op-ed, "a national infrastructure plan can help put America back to work, and smart investments in areas such as high-speed Internet access can help Americans adapt" to this crisis. This morning, Governor Hogan announced nearly $10 million in funding to support broadband internet connectivity for rural areas across the state.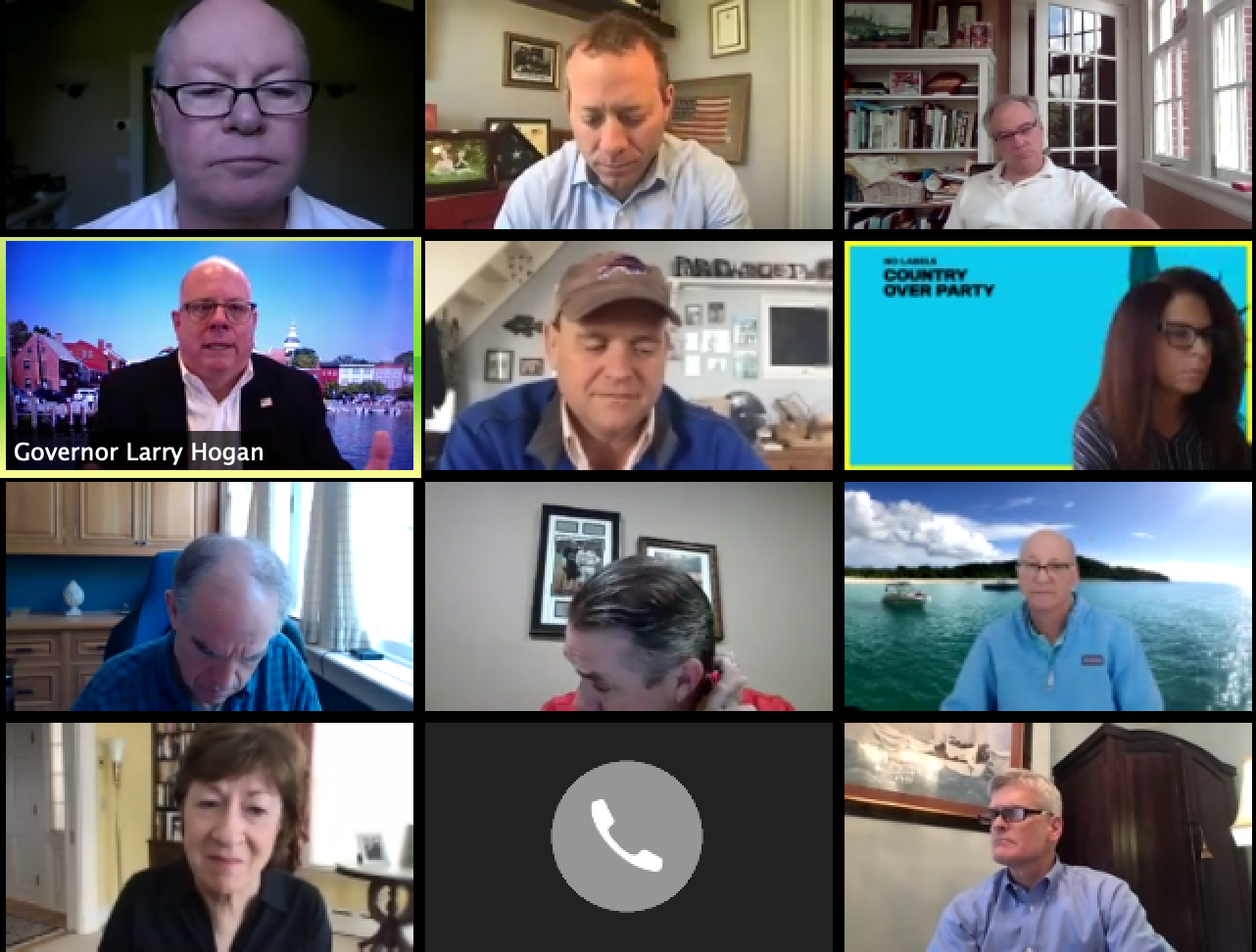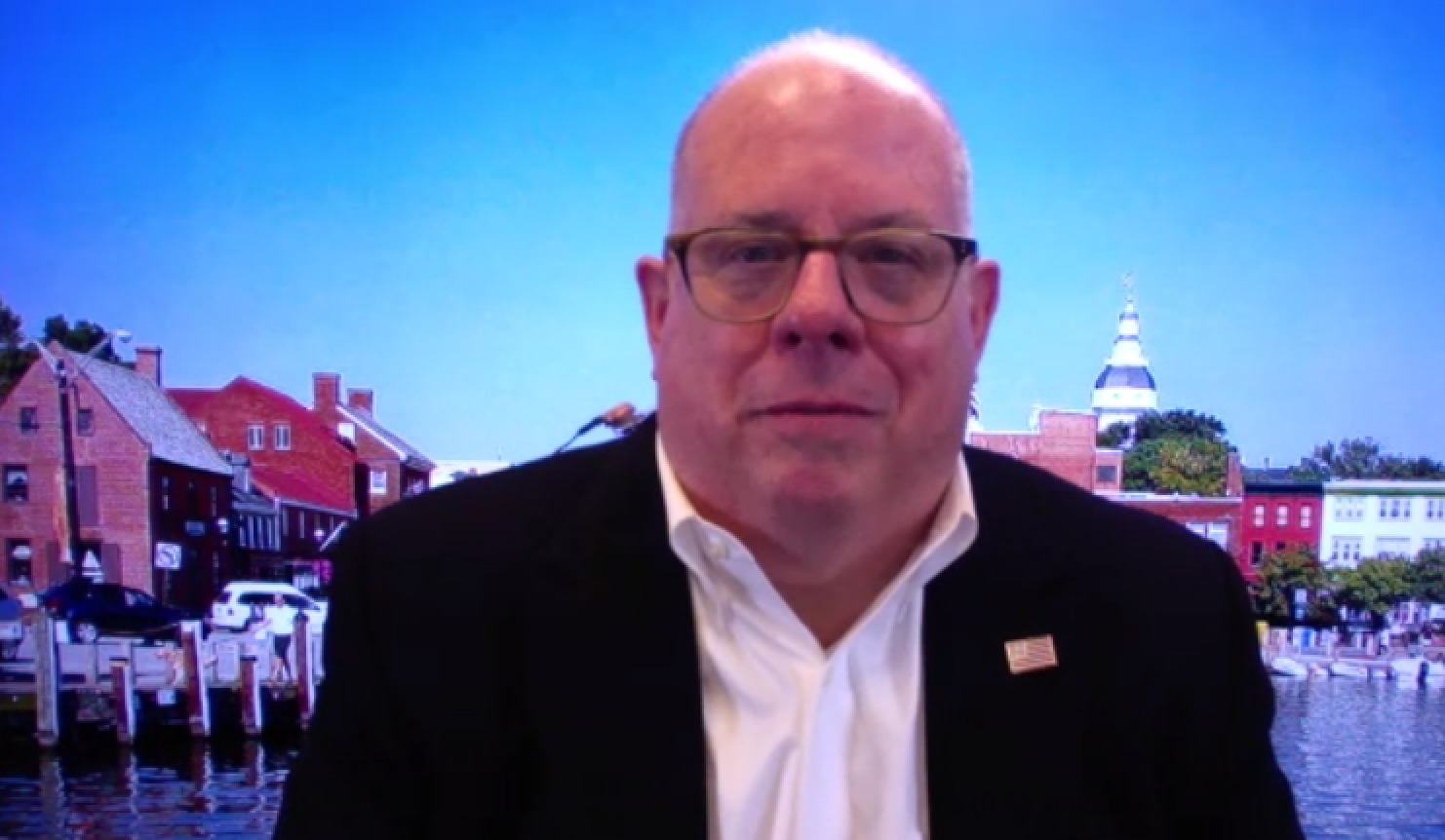 Participants Of The Virtual Meeting Included:
Senator Tom Carper (D-DE)
Senator Bill Cassidy (R-LA)
Senator Susan Collins (R-ME)
Senator Joe Manchin (D-WV)
Senator Chris Van Hollen (D-MD)
Rep. Jack Bergman (R-MI)
Rep. Buddy Carter (R-GA)
Rep. Jim Costa (D-CA)
Rep. Brian Fitzpatrick (R-PA)
Rep. Jared Golden (D-ME)
Rep. Josh Gottheimer (D-NJ)
Rep. Will Hurd (R-TX)
Rep. Dusty Johnson (R-SD)
Rep. Dave Joyce (R-OH)
Rep. John Katko (R-NY)
Rep. Dan Lipinski (D-IL)
Rep. Scott Peters (D-CA)
Rep. Dean Phillips (D-MN)
Rep. Tom Reed (R-NY)
Rep. Brad Schneider (D-IL)
Rep. Kurt Schrader (D-OR)
Rep. Donna Shalala (D-FL)
Rep. Xochitl Torres Small (D-NM)
Rep. Fred Upton (R-MI)
Rep. Peter Welch (D-VT)